What does your home office look like? Is every piece of paper neatly tucked away in folders and desk organizers, pens put away in every drawer? Or are we describing a fantasy? Even if you're a neat person, you may not always have time to get it all organized. We're featuring our newest DIYer Carrie, who shows us her latest DIY project – it's sure to get even the messiest home office organized for good!
Home offices can be easily overrun with papers and general mess.  They're often the place in the home that gets the least amount of attention since they're usually tucked away from the main living areas.  As you can see below, my office was no exception.  It was once just a spare bedroom overrun with a identity crisis.  It wasn't until we completed this Easy DIY Desk project that our home office truly became a functional work space.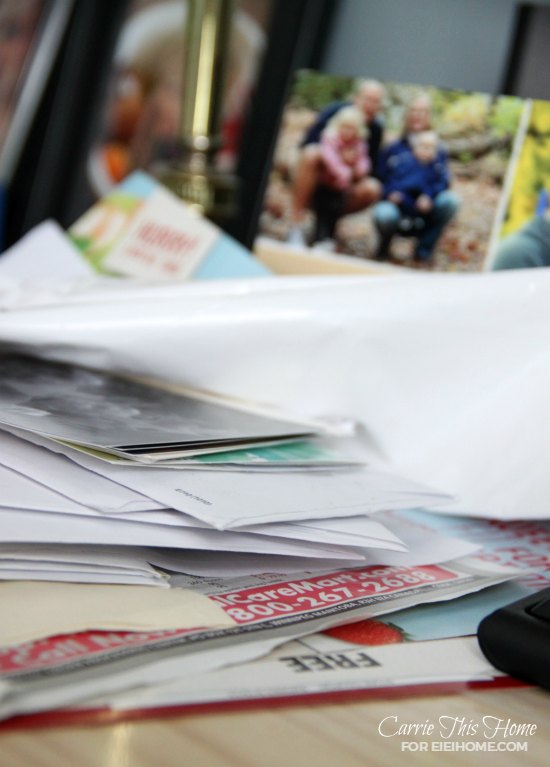 Our family needed an area where we could work and store important papers.  One day, my husband surprised me with this beautiful desk to contain all that mess and give me a beautiful place to work!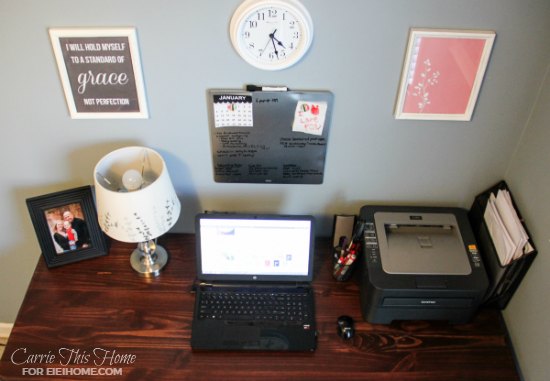 I love this desk because it's totally customizable.  You can choose the size of the desk as well as the functions.
I'm excited to be bringing you this easy DIY desk project. This is a perfect weekend project that is easy enough for anyone to do!
Choose functional filing cabinets to fit your needs
The filing cabinets will serve two purposes: it will hold up the desk surface and store office items. For us, the biggest storage need was for filing cabinets. I chose these cabinets that had two big filing drawers and a small desk storage drawer at the top.  The smaller drawers ensure all my office supplies can be stored out of sight.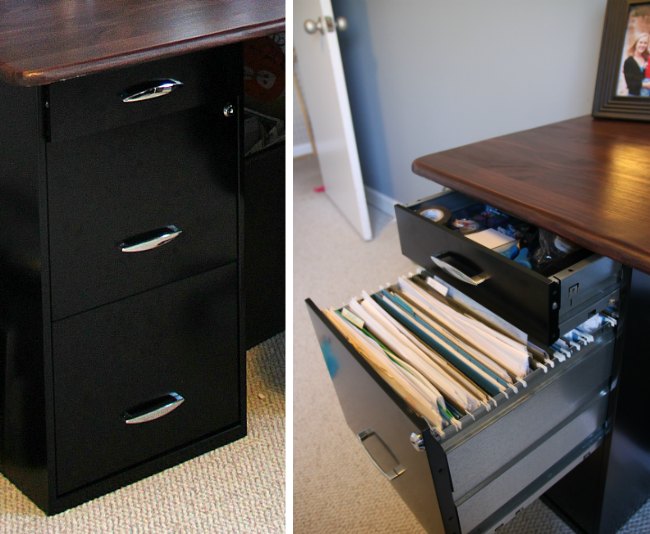 Choose your desk surface
We bought a discounted unfinished wood board from our local home improvement store for about $20 and used it as our desk surface.  We cut the board to the size we wanted and sanded down the edges to give it smooth corners.  You can also use a flat door as the desk surface and cut it down if needed.
Stain or paint the desk surface
We love rich toned wood furniture, so we chose to have a cherry finish for our desk.  My husband used a mixture of brown and red stain to create the perfect shade of cherry wood.  Then he coated the desk surface with matte finish polyurethane to ensure it's integrity.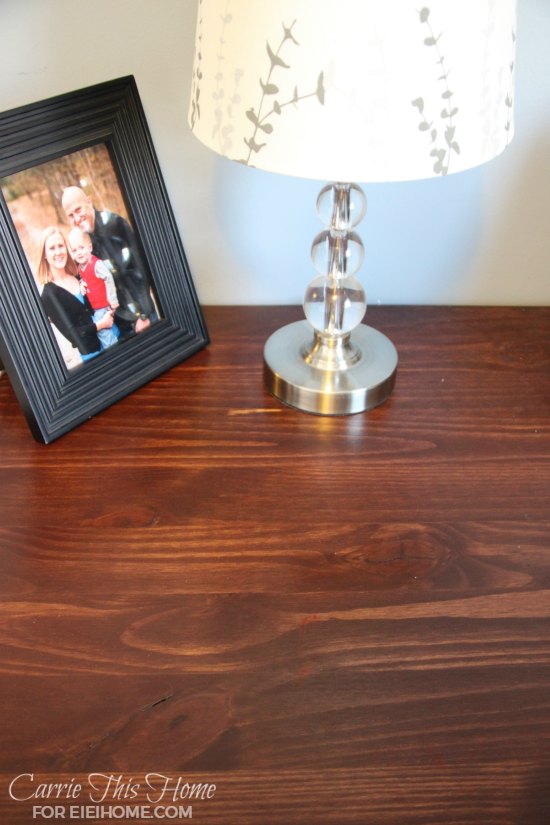 Test out the stain or paint on a small sample first before committing to staining or painting the final piece.  Be sure to allow ample time for the surface to dry before installing the desk.   We let the stain sink in to the surface overnight to ensure it was completely dry.
The Completed Project
Two filing cabinets and a piece of discounted wood were turned into this lovely and functional desk.  All our important work papers now have a home in the four filing cabinets. We accessorized with a lovely lamp that really gives the office area a warm feel.
Thanks to this desk, my office is now a place where I love to work!
If you're not the DIY-type, that's no problem. We have a database of furniture stores you can visit to find that perfect desk for your home office.
More in DIY
Furniture Makeover: Turn a beaten-down dresser into an entryway table
DIY: Make a book rack out of pvc pipe
About the Author: Carrie is the author of Carrie This Home, a blog all about easy DIY projects, easy cooking ideas and little ideas you can Carrie home.  She is a self-proclaimed lazy cook that relies on a little coffee and a lot of Jesus to get her through the day.